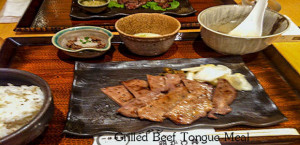 We had just arrived from Seattle and we were waiting for our flight to Kansai International Airport.  We had about 2 hours before our flight and I was getting kinda hungry.  I was in the mood to eat some ramen, but all the restaurants  were all pack.  That's Naoko saw a sign that said Gyuton (Beef Tongue) and it's been awhile since I had some gyuton.  Our minds was made up and decided to eat there, the atmosphere was very nice and they had separate section for smoking.  It was like a small VIP room if you ask me, which is really nice to see.  We were served water and the lady took our order, I had the Grilled Beef Tongue 1.5 person set (2,300 yen) and Naoko had the Grilled Japanese Beef with Two Sauce(980 yen) set and also order Tamago Kake Bowl (480 yen). I think she was really hungry cause she usually doesn't eat that much.  The was really delicious and grilled to perfection.  I really recommend this restaurant if you have time and waiting for your flight in Haneda Airport.
Rate:  Shaka's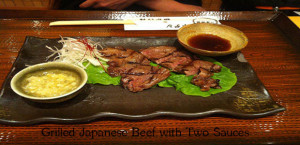 Ikkyu Chaya Haneda Airport
Yubinbango 144-0041 Ota-ku, Tokyo Haneda Airport
3-3-2 Tokyo International Airport 1st Terminal Building
North Terrace 3F
Phone: 03-5757-9446
Hours: 9:00 ~ 20:30 (Last Order 20:00) 7 days a week
Service: Very Friendly, smiling and very attentive.
Facilities: Very Clean and the Self Service Drink Bar were all full even at 1 hour to closing.
Prices: Reasonable
Strong points: Private Room for 10 people. (Call for more Information).  They have Non smoking and smoking seating separated by enclosed room.  Also they have English Menus.