Hello Everyone.  Here's a New Category we are now adding to our site called Bar's & Restaurant's around Japan.  We will be first sharing places we like to eat and drink at on our personal time.  So if or when you com to visit Japan and you are in that area, we hope we can give some information on a Great place to eat and drink at.  So that you can have a great experience when you go back home to tell your family and friends.
Our first stop is in Takatsuki, Osaka.  Takatsuki is located North West of Osaka in between Kyoto and Osaka.  If you are using any one of the major train lines like JR (Japan Railway) or Hankyuu, you will be able to use any one of these train lines to get to Takatsuki.  The place that we are visiting is JK's Bird, this is one of four in Takatsuki.  This bar is very relaxing and very spacious, with have 2 floors of drinking area.  We have been going here for drinks for over 10 years now and enjoy the hospitality here.  The Manager running JK's Bird is Daichi and the owner of all the JK's group is Junichiro Kitagawa.  Bird also serves appetizers for those who have the munchies, they have a great menu to choose from and here's a recommendation we advise you to try a dish called "Pastrami Roast Duck with Honey Mustard Sauce".  This is some new they have just recently added to the menu and it was very delicious and for the price of 700 yen it was pretty cheap for roast duck.  They have a very large selection of Alcohol to choose from and a small section for non-Alcohol drinker too.  The prices range from 500 yen to 800 yen if I remember correctly.  As for English communicating I don't think they have a problem with.  They speak very little, but some how it's understand able, a lot of Gaijin's or Foreigners who live or visit in Takatsuki always end up in one of the JK's Bars by the end of the night to early morning.
If you are lucky and come on the weekends here they may have a Music Event going on by local DJ and Underground Musicians.  Also if you are looking to set a party for you or someone else or even a closed private party on the 3rd floor, you can call or talk with the manager to see if they can reserve a spot on the day you request for.
So my overall rating I will give JK's Bird:
☆☆☆☆☆ 5 Stars….
I hope that this review of our New Category of Bar's and Restaurant's will be helpful, so will be adding a new post every week so stay tune..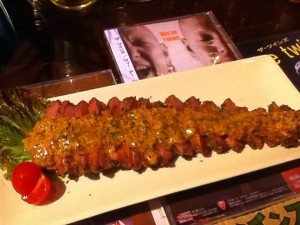 Pastrami Roast Duck with Honey Mustard Sauce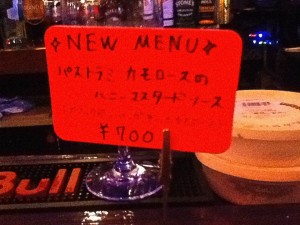 Only 700 Yen!!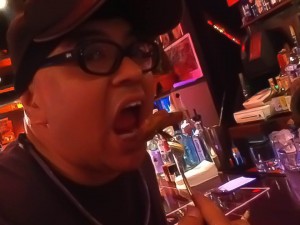 My hubby ready to take a bite..
Thumbs Up from the hubby on the taste test!!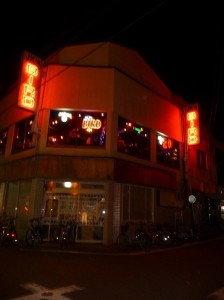 Bird @ Night……(note we couldn't get a clear photo bird at night with our Ipod Touch so we got this photo from Google Photos) Sorry….
JK's Bird Takatsuki
2F 2-2 Seongbuk-cho Takatsuki
Tel.: 072-676-3661
〒 569-0071
Business hours: Opens Daily
Service: Very Friendly
Facilities: Clean with a lot of room.
Prices: Reasonable